Our Home
Welcome to "Our Home" page!
Finally finished! Luke did an amazing job!
We finished the kitchen and living room literally a week before Jack arrived!
Let the Renovations Begin!
We officially started construction on the Living Room & Kitchen on July 28!
Here is the before kitchen:
Check out those dated cabinets!!!
Please excuse the messy kitchen! I was in the middle of emptying out the upper cabinets to be ripped down! I highly recommened that everyone completely clean out their cabinets at least once a year! Its a good way to not only get rid of any expired food you may have, but you can also give away the STUFF you never use!
Here is the before Living Room:
As of now: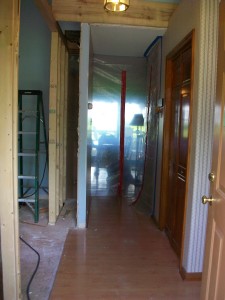 We brought the ceiling down in the living room because the one giant wall was just a waste of random space and all it did was collect cobwebs high in the corners! We are enclosing the living room with french doors. We wanted to create an "adult space" for ourselves for the future so we can have a space away from noisy kids! We moved the little wall in the foyer to give us more space and Luke will build a bench in the niche behind the front door!
Please stand by for more photos! 🙂